May Day March and Protest Rally goes ahead
The famous Chesterfield May Day Parade will take place this year but with present restrictions there will be no Gala.  Chesterfield usually hosts the most prestigious May Day Gala in the country and has been held every year since May Day became a Bank holiday in 1978.  However last year the event was cancelled due to the pandemic and this year only the March and Protest Rally will be held.
On May 3rd the event will begin with people assembling on Shentall Gardens across from Chesterfield Town Hall on Rose Hill from 11.00am.  As the protestors arrive they will be addressed by Chris Peace of the Orgreave Truth and Justice Campaign and by Patrick Wakefield of the School Climate strike.  At 11.30am with banners aloft the march will wind its way through the pedestrianised areas of the Market Place and Vicar Lane.  The heavily stewarded protest March will finish at the Queens Park Bandstand to ensure social distancing. The crowds will be addressed by speakers including Union leaders, Guests and Speakers giving an international flavour to the day of protest that is marked throughout the world.  May Day has its origins from the late 19th Century when people were demanding the reduction to an eight hour working day.  This year there will be many issues being raised by a fine array of speakers, including the right to protest itself which is presently under threat from the Police, Crime, Sentencing and Courts Bill presently going through Parliament.  Three leading Trade Unionists will deliver speeches to the Queens Park crowd, Sarah Wooley of the Bakers Union, Rehana Azam from the GMB and Steve Turner Assistant General Secretary of UNITE.  Tricia Gilby leader of Chesterfield Borough Council and Maria Vasquez-Aguillar of the Chile Solidarity Network will also give voice to the concerns of ordinary people both home and abroad
Seating will be available next to the Bandstand to ensure social distancing and those participating will be asked to wear face coverings and to maintain social distancing.
'We hope to be back with our usual mix of protest, carnival and culture next year at our famous Gala, said James Eaden, President of Chesterfield Trades Council.  'but for this year we will mark the day in its origin and tradition only.  We will make sure that the issues of workers' rights, pay, safety and security are heard loud and clear.  The future of the planet is at stake.  We must be heard – and no Government should be allowed to curtail the right to protest.'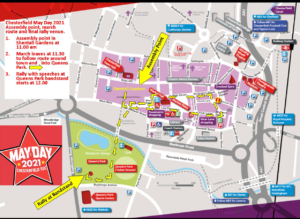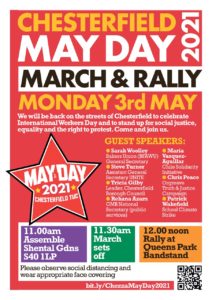 Posted: 28th April 2021