The John Knight Memorial Award and Lecture
Nominations now open!
In memory of John Knight we are making an award of £1,000 to an individual, Trade Union Branch, group or organisation who have contributed to making a difference to the lives of people in the East Midlands on an issue of Health and Safety or Social justice
Why 'The John Knight' Memorial Award? John Knight 1949 – 2021 In 2021 John Knight, former Co-ordinator of the Trade Union Safety Team, sadly passed away with Covid.
John, a people's champion, had established the Trade Union Safety Team to support workers and former workers who had been made ill by their work.
The Trade Union Safety Team supported thousands of former miners made ill by their work. John and the Trade Union Safety Team were instrumental in bringing in millions of pounds of compensation to the local community. John and the Team also undertook ground-breaking 'barefoot' research into the dangers of plastic chemicals.
How to Apply It is possible to nominate yourself or a friend, colleague or Trade Union Branch or an organisation for this award which will be presented at the memorial lecture in July. Date to be announced. Deadline for applications Friday 10th June 2022
For more information and to request an application form, please contact Joanne Gordon
on 01246 380415 or joanne.gordon@asbestossupport.co.uk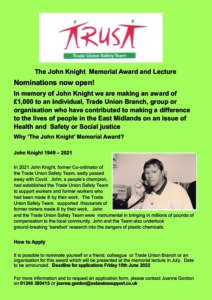 Posted: 20th April 2022