Patrick Harvey known to all his work colleges and friends as Paddy passed away on Friday the 30th of April after a short illness,
Paddy was a Union man all his working life and even in retirement carried on as a Representative for the GMB fighting many cases for his union colleagues. Everyone who knew him will remember his happy carefree attitude, always a laugh and joke no matter where he was, but when it came down to the business of looking after his fellow men no one was more serious.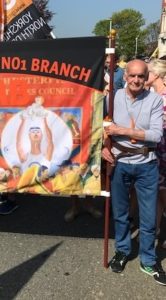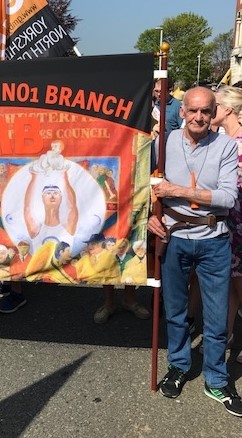 He was also a dedicated attendee of the May Day Parade and when we had a new banner he was there to carry it, sorry this time Paddy but you was there in our memories and the Black tassels on our banner this year was for you.
Paddy will be sorely missed by all, but I know we will have many fond memories of him,
Rest in Peace Patrick Harvey aka Paddy
Paddy's funeral will be held on the 17th of May 2021 at 11:50 this will be webcast due to Covid-19 restrictions at the crematorium
Login:             94516
Password:     tksfqkcy
Paddy's wife Monica has requested no flowers please and any donations to be for The Ashgate Hospice who looked after Paddy so well.
There is also a fund me page for Ashgate Hospice set up in Paddy's name link below,
For Ashgate Hospice in Memory of Patrick Harvey
Posted: 10th May 2021